NCPS Meetings are held at beautiful Weymouth Center for the Arts & Humanities, in Southern Pines, NC. For Directions to Weymouth, see our directions page.
---
March 18, 2017 Poetry Society Meeting

Join us for our spring meeting at beautiful Weymouth Center for the Arts.  The gardens are particularly enchanting in the spring.
After a continental breakfast and socializing, we will hear Peter Makuck read his poetry in the morning, followed by open mic.  After lunch, Marjory Wentworth, Poet Laureate of South Carolina, will read her poetry.  Don't miss another opportunity to hear great poetry and socialize with fellow poets!
Schedule:
9:15      Registration
Order a box lunch if not paid in advance ($10, cash or check) until 10:10 a.m.
10:00   Business Meeting
David Radavich, presiding.
10:30   Peter Makuck reads his poetry.
11:15     Open Mic
12:00   Lunch
Socializing, walking in the gardens, perusing the book room.
1:00     Marjory Wentworth reads her poetry.
Peter Makuck's poetry collections include Where We Live (1982), The Sunken Lightship (1990), Against Distance (1998), and Off-Season in the Promised Land (2005), all published by BOA Editions.  Pilgrims (Ampersand Press) won the Zoe Kincaid Brockman Award for the best book of poems by a North Carolinian in 1989.  Released in 2010 by BOA Editions, Long Lens: New & Selected Poems was nominated for a Pulitzer Prize.  Makuck has published two collections of short stories, Costly Habits (University of Missouri Press, 2002) and Breaking and Entering (University of Illinois Press), as well as essays, reviews, stories, and poems appearing in a wide variety of journals.  Winner of many literary awards, Makuck founded the Tar River Review in 1978 and continued until 2006, when he retired from East Carolina University and now lives with his wife Phyllis on Bogue Banks, one of North Carolina's barrier islands.
Marjory Wentworth's books of poetry include Noticing Eden, Despite Gravity, The Endless Repetition of an Ordinary Miracle, and New and Selected Poems.  She is the co-writer with Juan Mendez of Taking a Stand: The Evolution of Human Rights, co-editor with Kwame Dawes of Seeking: Poetry and Prose Inspired by the Art of Jonathan Green, and author of the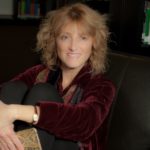 prize-winning children's story "Shackles."  Her most recent collaborations include We Are Charleston: Tragedy and Triumph at Mother Emanuel, with Herb Frazier and Dr. Bernard Powers, and Out of Wonder: Poems Celebrating Poets with Kwame Alexander and Chris Colderly (2017). Marjory Wentworth is on the faculty at The Art Institute of Charleston.  She is the co-founder and former president of the Lowcountry Initiative for the Literary Arts.  She serves on the Editorial Board of the University of South Carolina's Palmetto Poetry Series, and she is the poetry editor for Charleston Currents.  Her work is included in the South Carolina Poetry Archives at Furman University, and her poems have been nominated five times for the Pushcart Prize.  She is the current Poet Laureate of South Carolina.
---
Walk into April on April 8
Barton College, the North Carolina Poetry Society, and the Gilbert-Chappell Distinguished Poet Series again bring you Walk into April Poetry Day, a celebration honoring our state's accomplished poets.  Held in The Sam and Marjorie Ragan Writing Center at Barton College, this year's event features Bruce Lader and Beth Copeland as well as Amber Flora Thomas, Gilbert-Chappell Distinguished Poet for Down East.  The program runs from 9:45 until 3:00. Everyone is welcome to bring books to sell and a poem to read during open microphone time.
Beth Copeland has published Transcendental Telemarketer and Traveling Through Glass, winner of the 1999 Bright Hill Press Poetry Book Award, and is an English instructor at Methodist University in Fayetteville.
Bruce Lader has published five books of poetry, including Fugitive Hope, Embrace, Discovering Mortality, and Landscapes of Longing.  He is founding director of Bridges Tutoring, a Raleigh-based organization educating multicultural students.
Gilbert-Chappell Distinguished Poet Amber Flora has published Eye of Water: Poems, winner of the Cave Canem Prize, and The Rabbits Could Sing: Poems. Recipient of the Dylan Thomas American Poet Prize, she teaches poetry and creative writing at East Carolina University. Amber and the Gilbert-Chappell student poets she mentors this spring will read in the afternoon.
To reserve a catered lunch, please contact Rebecca Godwin at rlgodwin(at)barton.edu by April 5.   We hope to see you at Barton when the azaleas are in bloom.
---
PAST MEETINGS
January 21, 2017 Meeting
Maureen Sherbondy read her poetry and Michael McFee presented a mix of poetry and discussion of careful revision at this delightful meeting that also included a particularly rewarding variety of poets at open mic.  Jan Harrington was celebrated at this year's winner of the Lena Shull Book Contest for a new poetry collection to be published by Saint Andrews University Press.
September 17, 2016 Meeting
Our meeting on September 17 offered a feast of varied poetic tastes, with the winners of the Randall Jarrell Poetry Contest and the winners of the Brockman-Campbell Book Award all sharing their work.  After a high-quality open mic and lunch on the beautiful grounds of Weymouth, Alice Osborn suggested ways to launch our poetry out in the world with a workshop on social media and marketing.
May 28, 2016 Meeting
Thanks to everyone who participated in our May 28 annual Awards Day!  It was a festive occasion for poetry written by our student and adult prize winners.  Special thanks to Michael Beadle, our Student Contests Coordinator, and to Richard Allen Taylor, our Adult Contests Coordinator, for doing a splendid job organizing and presenting the prizes.  The Weymouth gardens were at their finest on a gorgeous day perfect for good poetry and fellowship.
---
Poetry Day Hickory, April 2

The North Carolina Poetry Society and Lenoir Rhyne University invite you to our Annual Poetry Day 2016 on Saturday, April 2, from 11:30 a.m. until 3:30 p.m. Featuring workshops and readings by Kathryn Kirkpatrick and Stan (JS) Absher, this will be a wonderful day of poetry and craft.  Contact Scott Owens for directions, details, and registration.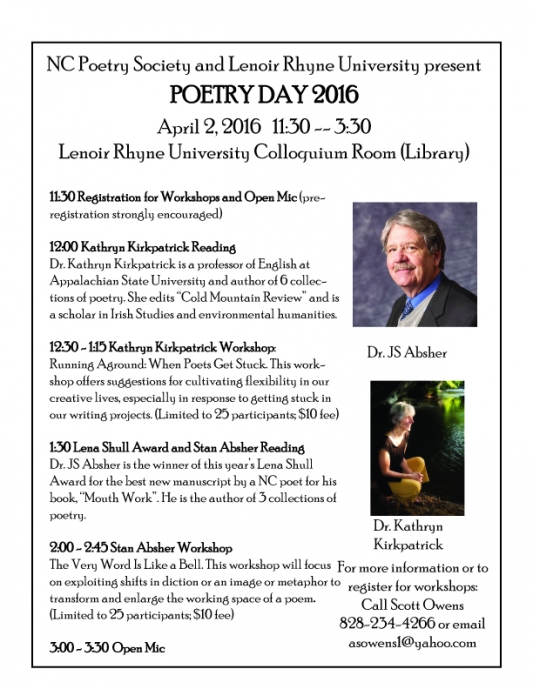 ---
PAST MEETINGS
---
Sam Ragan Day |Saturday, 

March 19th, 2016
9:15 – Registration begins. Order a box lunch ($10, cash or check) until 10:10 am. Pay your annual dues, browse the displays of 8 North Carolina literary presses.
10:00 Business Meeting. David Radavitch, President, presides.
10:20   Learners and Mentors
Current students, and those who have graduated, from area campus-based MFA programs will read from their work. Programs represented will be – the North Carolina State University MFA program, The University of North Carolina at Greensboro MFA program, and the University of Wilmington MFA program.
Two featured students from each program will read from their poetry. The readings will be followed by a discussion among the students and audience about the value of MFA programs and working with established poets to hone one's craft.
11:40 – MFA student open mic. Other MFA students from these 3 programs who come for the event will be offered an opportunity to share their work.
12:00 Eat lunch! Buy books, socialize, and enjoy the gardens. Also, speak informally with the students and teachers from the MFA programs 
1:00 Announcements
1:15   Readings from MFA poets
2:00 Book signing by featured poets.
2:15  Open mic